We are a 30 minute drive from Skanda Vale, but are not 30 minutes out of your way. We are located off Junction 48 of the M4 on your way to Skanda Vale, and on your way home when travelling back.

The Chapel has never been affiliated to any religion. It has been a place where the local community have gathered together for recreational purposes for over two hundred years.

We have been graded 4 Star accommodation by Visit Wales. This is just the start of our commitment to ensuring your stay is a wonderful one. We know that most of our guests visiting Skanda Vale take the opportunity to have a well earned rest or change of scenery whilst you are here.

Attractions:
With beaches, and castles just down the road you are in the perfect location to enjoy the best of Wales, as well as being close to Skanda Vale.
See the attractions page.

Chapel Apartments are arranged over three floors with a fully contained luxury apartment on each level. There is one entrance door into the property with access to the ground floor apartment which is ideal for the less agile of your group. There are stairs from this point giving access to the first floor apartment, and the second floor apartment. This makes the building great for family's to share the building, yet still having that extra privacy.

Cooking:
All three apartments have the same catering quality pot & pans. We have very large Sauté pans with lids, and very deep sauce pans with lids ideal for cooking rice or pasta, and other vegetarian meals.
See Apartment Details

Sleeping:
Each apartment has 4 full size single beds, and one large King size bed, sleeping 6 easily. There are 15 beds in total in the building. If your group is larger than 18 then you should phone to enquire. All of our beds have Deep Silentnight mattresses.

Included In The Price:
All bedding, and linen, bath and hand towels, toilet rolls & soap, all washing up stuff and tea towels, electricity, hot water, heating (regulated), Wi-Fi, DVD library, visitor information, free parking for up to six cars or mini buses.

Prices:
We have a prise promise to beat any other local accommodation by at least 5% but usually we are a lot cheaper than that anyway. There are lots of price variations throughout the season's which makes it difficult to publish fixed prices. For this reason we would ask you to take the trouble to phone in or email us for our best price.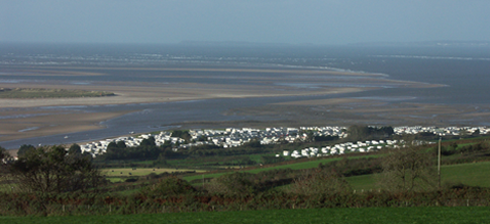 Our chapel accommodation in the village of Llansaint has been a place of worship for over 200 years until it was converted into three luxury self contained apartments in 2008. Not affiliated to any religion the chapel simply served the local community, and the weary traveller. The chapel has always welcomed pilgrims over the centuries on route to St David's Cathedral, and more recently to Skanda Vale.

Archaeology and carbon dating has proved the first inhabitants' of the Village of Llansaint were a religious community, with its origins dating back to the 4th Century. The area is steeped in ancient history with a magnificent Norman castle just 4 minutes away.

Chapel Apartments with its sea views has now become a regular place of accommodation for pilgrims visiting Skanda Vale. They all say how lovely the accommodation is, and that they will come again. Walk in the footsteps of other pilgrims over the centuries, you cannot choose a more appropriate accommodation. You should read what other pilgrims have said below.


Visit the very large castle 4 minutes away. (see picture right)
Visit the Harbour 15 minutes away. (see picture below)
Visit the beach 6 or 15 minutes away.
Visit Pembrey Motor Racing Circuit 13 minutes away.
Great country walks around Chapel Apartments.
Look at the view of Carmarthen Bay from the village. (see picture above)